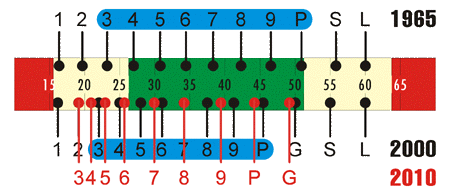 Lịch sử 40 năm phát triển gậy wedge
12/06/2017 | Đăng bởi Hoa Tùng
What is the "loft" of a golf club?
The angle of the face of the club with respect to the shaft is called loft. Drivers, 2 and 3 irons have very little loft. Wedges, and short irons have considerable loft by design.
And, as your intuition tells you, the more highly lofted a club is, the higher will be the trajectory of your ball.
Loft angles are expressed in degrees with respect to vertical rather than the ground. A high-lofted club, such as a sand wedge would have a loft somewhere about 55-degrees. Lob wedges can go as high as 64-degrees. But that's about the practical limit for a club. You only need about 60-degrees to make a perfect flop shot.
What is the official loft angle for each golf club?
There aren't any official values. Manufacturers are free to set the angles to whatever they wish.
We can show you a chart indicating nominal loft angles for a modern set of irons. Realize that over the last forty years, manufacturers have changed these values considerably in order to make their models more attractive. By slightly reducing the loft angle of a club, the ball travels a bit farther. Distance sells. This is called "creep".
The following are typical loft angles for a set of irons. However, there is considerable variability across manufacturers. Read the bottom of this page for some examples of loft creep.
4-Iron 25 9-Iron 41
5-Iron 28 Pitching Wedge 45
6-Iron 31 Gap Wedge 50
7-Iron 34 Sand Wedge 55
8-Iron 37 Lob Wedge 60
What is the official distance associated with each golf club?
Here are nominal distances for each of the common irons when struck with a full swing by a reasonably proficient 40-year-old male golfer of average height into still wind. These loft angles were recorded in 2000. For more recent values, see the addendum at the bottom of this page.
4-Iron 170 9-Iron 120
5-Iron 160 Pitching Wedge 105
6-Iron 150 Gap Wedge 90
7-Iron 140 Sand Wedge 70
8-Iron 130 Lob Wedge 40
You may find a chart in some book that shows different yardages. Nobody's values are "correct" for the following reasons.
Each club in a matched set of irons is designed to propel the ball a measured distance compared to the other clubs in the set. But the specific distance that each club propels the ball will vary from player to player, manufacturer to manufacturer, model to model, ball to ball. Even air temperature affects the flight of a ball. PGA Tour professional Phil Mickelson claims that a hot day can change the distance of his 7-iron from 175-yards to 185-yards.
It is not important that a nine-iron hits the ball a specific distance.
What is important is that once you figure out which iron will propel your ball a certain distance, that the other irons will propel the ball progressively farther or less by a predicatable amount.
All else being equal, distance is determined by the length of the shaft and the loft angle of the clubhead.
How far do the longest pros hit these same clubs?
These are the ranges for the average hitters on the PGA Tour.
4-Iron 210-220 9-Iron 140-155
5-Iron 195-205 Pitching Wedge 130-135
6-Iron 180-190 Gap Wedge (not used)
7-Iron 165-180 Sand Wedge 115-120
8-Iron 150-170 Lob Wedge 75-95
Keep in mind that ball and club technology have changed this table dramatically in the last ten years.
In 1993, when Greg Norman won the British Open at Royal St. Georges in Sandwich, the Shark used a driver and a four-iron to reach the 18th green situated 460 yards from the tee.
In 2003, Tiger Woods preferred a three-wood off the tee, followed by a wedge which he can use from within 160 yards!
What is a Gap Wedge?
A Gap Wedge has a loft of approximately 50-degrees. It gets its name because it fills in the "loft gap" between the modern Pitching Wedge (45-degrees) and the Sand Wedge (55-degrees).
This same club has alternate names depending upon the manufacturer: Approach Wedge, Dual Wedge, Attack Wedge
How come there weren't Gap Wedges thirty years ago?
The short answer is that in the 1960s and early 1970s, there was no need for such a club. The loft of a Pitching Wedge was closer to 50-degrees then.
The need for a Gap Wedge today results from a marketing ploy used by club manufacturers. Here's the story:
Over the last four decades, there has been some "creep" to the nominal lofts and shaft lengths associated with each iron.
That's because the club manufacturers, in a never-ending effort to claim that their clubs hit longer than their competitors (or that their clubs hit longer than their previous model), keep tweaking the designations.


Góc loft sử dụng đến năm 2000
Let's examine this chart to see what's been going on.
The multi-colored bar is supposed to be a ruler, indicating loft angles from 15-degrees to 65-degrees.
We have plotted the typical loft angles of each iron club against this ruler. We've done this for a typical set from 1965 and again with a set from 2000.
The angles less than 16-degrees are colored red because it simply isn't practical for a golfer to extract any extra usable distance from such an iron. Besides, very few golfers in the world can reliably strike a 1-iron off the fairway with any accuracy.
Indeed, the left-most beige zone is colored that way to indicate that 90% of all golfers prefer to use a wood than a 1-iron, 2-iron, 3-iron, or even a 4-iron.
The green zone is a "comfort zone" for which the majority of golfers will find it practical to strike an iron.
The right-most beige zone represents clubs for which distance is not the primary concern. This is the domain of the Sand Wedge and the Lob Wedge, specialty irons whose designs are intended for specific situations.
The right-most red area represents the practical limit of loft, which is 64-degrees. Beyond 64-degrees, a wedge just cannot avoid biting into the ground or fully slipping under the ball.
In 1960, the typical 9-iron had a loft of about 47-degrees. In 1999, a typical 9-iron was lofted 41-degrees! In 1960, the 5-iron's loft was 31-degrees. Today, it's around 27-degrees.
What's going on?
CREEP
Consider that in 1960, there was no club called a "gap wedge" or "approach wedge" or "attack wedge", etc. There was no need for it because the pitching wedge of the 1960s was the same club that today is called a "gap wedge".
"Longer" sells. If Manufacturer A can boast that in totally fair tests their clubs propel the ball an average of ten yards farther... well, they'll sell more clubs. So what do they do? They scrape off the "8" from an 8-iron and stamp a "9" on it. All of a sudden, Manufacturer A has got a 9-iron that hits as long as Manufacturer B's 8-iron.
Amazing how technology works.
Actually, the change has been more gradual. Anything as radical as swapping a "9" for an "8" would have been too easy to spot and would have proven too embarrassing. A more subtle approach was chosen.
Over the years, each iron (down to the pitching wedge) became just a little bit less-lofted so that the ball would travel just a little bit farther than the previous model. Only the sand wedge was left alone. That's for two reasons: (1) The sand wedge is not used to achieve distance. (2) Reducing the loft of the sand wedge would have made the club less useful in the very sand traps it was designed for.
Gradually, the difference in loft between the pitching wedge and the sand wedge increased. In the 1960s, there was a five degree difference between the sand wedge and the pitching wedge. Now there is a ten-degree difference. So the club manufacturers responded by inventing a new club, the "gap wedge". It has a loft mid-way between the pitching wedge and the sand-wedge.
BUNDLING
Refer back to our diagram. Notice the clubs that are highlighted in blue.
Just as with the auto industry, the golf industry "bundles". When you purchase a car and you want a certain optional feature, you often cannot purchase that option separately. You must obtain it within a bundle of other options, some of which you may have no use for. Manufacturers get you to spend more money than you intended by bundling.
It's no different when it comes to clubs. Remember that the green zone is the "comfort zone". Nine out of ten golfers in 1965 could not hit a three-iron. It's not within the comfort zone. For hits from 3-iron distance, these golfers would find it easier to stroke a 5-wood or 7-wood.
The sales people knew what they were doing in 1965. By bundling a set of irons (3-9 plus P) they were selling you a club (3-iron) that they knew most golfers would never use, under the guise that purchasing the set was less costly on a per-club basis than it would be to purchase the irons golfers did want individually.
Oh, but it gets even better for the manufacturers.
You see, along with "loft creep" came two additional benefits for the club manufacturers:
First, notice that in the year 2000, not only is the 3-iron being bundled. The 4-iron is being bundled, too. Look at the chart. Today's 4-iron is just about as unhittable as the 1965 3-iron for the average golfer. The manufacturers are now getting you to purchase two unusable clubs when you buy a matched set.
Second, notice that in 1965, the manufacturers were merely "guilty" of forcing you to buy one club that you wouldn't use. At least they were including the Pitching Wedge, a very important club.
But now, not only are the manufacturers "guilty" of forcing two unwanted clubs down your throat. But they also expect you to separately purchase the Gap Wedge, which is the important Pitching Wedge of 35 years ago.
Let's illustrate this with real cash.
BUNDLING CASE STUDY
We'll make the illustration simpler by ignoring the effects of currency escalation over the past 35 years. Our assumption will be that 1965 dollars are the same as 2000 dollars.
You go to the store to purchase a set of good irons. You want 4-9 plus the pitching wedge because those are the irons within the green comfort zone. Salesperson says that it will cost you $100 for each club.
However, you are offered a bundled set 3-9 plus P for $750. That's almost a seven percent discount per club!
You lay down your $750 and put all eight clubs into the bag. Within a week you realize that the 3-iron is a club you're not going to use because it is too difficult to hit (it's not within the green comfort zone). You take it out of your bag and put the 5-wood into the bag.
You've spent $750. You've got 7 irons in the bag. You've actually paid $107 per iron in your bag. The 3-iron is gathering dust.
Had you purchased each usable iron separately, you'd have spent just $100 per iron!
You go to the store to purchase a set of good irons. You want 5-9 plus the pitching wedge and gap wedge because those are the irons within the green comfort zone. Salesperson says that it will cost you $100 for each club.
However, you are offered a bundled set 3-9 plus P for $750. That's almost a seven percent discount per club!
You lay down your $750 plus another $100 for the Gap Wedge and put all eight clubs into the bag. Within a week you realize that the 3-iron and the 4-iron are clubs you're not going to use because they are too difficult to hit (they're not within the green comfort zone). You take them out of your bag and put the 5-wood into the bag.
You've spent $850. You've got 7 irons in the bag. You've actually paid $121 per iron in your bag. The other two are gathering dust.
We got a tip from a recent visitor to check out the loft angles of Taylormade's new Burner irons. We did just that! Note that these irons are no longer sold as a "set" per se. So, we can't complain about bundling any more. However, the lofts are far "creepier" than ever before.
Here's our illustration from above. But now it's annotated with red marks to indicate present-day loft angles.
Notice how a six-iron in 2010 is equivalent to a four-iron from just ten years earlier!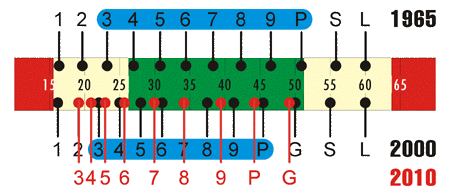 Góc loft sử dụng sau năm 2000
Viết bình luận